---
(ARA) - With all the latest gadgets and gizmos available, many gift givers may find themselves confused when shopping. New technologies like HDTV, satellite radio and MP3 are slowly but surely moving into the mainstream, yet many consumers do not know exactly what these technologies offer. Cambridge SoundWorks' resident expert, Fred Pinkerton, demystifies the latest consumer electronics technologies, answering some of the most common consumer questions.

What is HDTV?

HD or high definition television is a new broadcast standard for television signals. HDTV provides a huge improvement in picture quality over any system previously available. HDTV audio contains an extra four channels of superb sound. An HD broadcast has superior image quality because it includes more video information -- up to 1,080 lines of vertical resolution as compared to 480 on a standard analog TV. Coupled with this, HDTV features Dolby Digital 5.1 channel sound for superior audio quality. To enjoy HDTV you will need to buy an HDTV set, says Pinkerton. Some of the new sets come with HDTV tuners built into them, while others do not. Those that do not have a built-in tuner are "HDTV Ready" -- you will need to purchase a separate tuner. HDTV broadcasts are available through several sources. Cable or satellite television service providers offer HDTV programming through an upgraded tuner box and charge a monthly subscription. HD broadcasting can also be received "over the air" through an HD tuner and a UHF antenna. Cable and Satellite services offer premium movie and entertainment programming in HDTV, along with a wide selection of sports programming. ABC, CBS and NBC now present most of their prime time shows in the highest resolution HDTV available, along with the majority of their featured sporting events. Fox presents "enhanced" definition TV and will switch over to high-resolution soon.

What is Satellite Radio?

Satellite radio providers broadcast their programming through satellites in orbit, blanketing the continental United States with interference-free, high quality audio. Service providers like XM Satellite Radio offer members over 130 channels of programming, most of which is commercial free. Satellite radio is a subscription service and requires a satellite radio receiver, like Delphi XM satellite radio receivers, to obtain the broadcasts.

What is surround sound?

A complete surround sound system will produce a home theater experience similar to a movie theater, says Pinkerton. To enjoy surround sound you will need a Dolby Digital receiver. This should be paired with a television that measures 27 inches or more, and a speaker package consisting of five matching speakers and a powered subwoofer. The main speakers should flank the television. The center speaker should be placed directly above or below the TV for good dialog sound. The rear speakers, which reproduce action and environmental sounds, should be placed on the side walls, above the listener's head. A powered subwoofer, which reproduces low frequency effects (such as the rumble of thunder), performs best when placed on the floor, against a wall.

What is MP3?

The MP3 format is a compression system for digital music. This digital music format reduces the digital file size of a song, with little effect on the quality of the song's sound. MP3 compresses digital music by a factor of 10 to 14 times. This lets you download a song in minutes versus hours. The smaller file size makes it possible to store a huge amount of music in portable players. Popular players, like the Apple iPod and Creative Zen, contain enough storage capacity so that you can carry thousands of songs -- literally your entire music collection -- with you wherever you go.

For the iPod, there is also the iJet RF Wireless Remote, receiver (RF; no line of sight) and stand, that will allow you to operate an iPod from 60 ft away or more. It also comes with the audio cable necessary to hook up to any sound system (home or auto).


What is a high performance table radio?

What are being dubbed "high performance table radios" are small sound systems that have the footprint of a traditional radio but offer sonic fidelity similar to a larger stereo system. They are usually packed with features, such as the ability to play DVDs and MP3s, and holds an iPod.

These radios are great substitutes for larger stereo systems when room (think den, kitchen, office, or bedroom) and budget are at a premium. The SoundWorks Radio exemplifies what these new radios offer, says Pinkerton. It houses precision speakers (with a built-in powered subwoofer) that create room-filling sound. It supports AM/FM, CDs, MP3/WMA on writable CDs and DVDs, and dual alarms with wake from iPod.

Consumers looking for assistance with their consumer electronics needs can call Cambridge SoundWorks at (800) FOR-HIFI to speak directly with an expert, or can schedule an appointment for a free consultation through the company's new online Personal Shopper program. Visit cambridgesoundworks.com and log on to the Personal Shopper icon to schedule a private consultation. An A/V Expert will contact you at the designated time of your choice, at no cost and with no obligation to purchase.

Courtesy of ARA Content



Accessories for People Who Love Music and Movies

Mini-System Stands
Speaker Stands
Home Theater in a Box Speakers
Wall Mounts
TV Turntables
Over-the-TV Shelves

Do you have a friend or loved one who really appreciates music and movies? If so, you'll probably have a hard time finding a gift for him or her. That person already has a high-tech stereo system, a wide-screen television, an extensive music library, just about every movie their favorite star ever made, and the list goes on.

So what can you get for them? How about something the person doesn't even know they need, but will surely appreciate when they get it -- a nifty accessory. "These days pretty much anything you can think of that will enhance the audio-video experience is available," says Keith Pribyl, vice president of Sanus Systems, a St. Paul, Minnesota-based company that designs and builds a broad variety of audio/video furnishings, mounts and accessories.

STANDS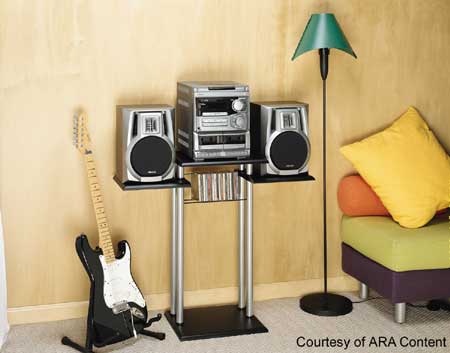 For the music lover in your life, a place to store all their prized equipment may be the way to go, particularly if you've noticed they have speakers and wires everywhere, CDs on the bookshelf and floor, tapes in drawers, and records they can't find. Help them get organized by surprising them with a Mini-System Stand. It not only provides a place to put their stereo or boom box, it reduces clutter, optimizes sound from the speakers, and provides integrated storage for CDs.

"These work best for boom boxes and smaller systems like you'd find in a dorm room, office or apartment," says Pribyl.

For people with bigger systems, a set of Speaker Stands may be more appropriate.

MOUNTS, TURNTABLES, AND SHELVES

Some stands are designed to work with "home-theater-in-a-box" speakers and raise those speakers to optimum listening height, while others angle them down for correct directional positioning -- or wall mounts could be used to really create space.

And here are a couple of gift ideas for the person who really enjoys watching TV -- a television turntable, a VCR holder, and a shelf that fits over the TV. A turntable is a great gift, particularly for the sporting enthusiasts who frequently turn the set so they can get a better view.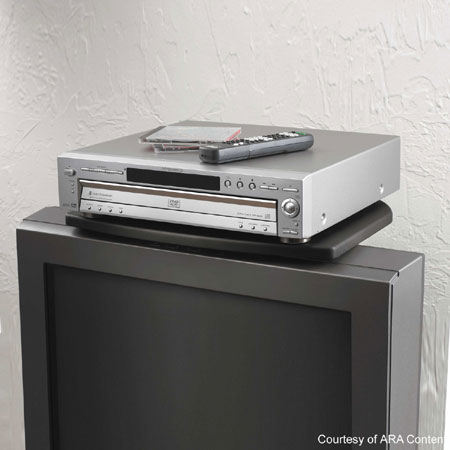 "The best thing about this accessory is it allows you to move the set easily without scratching the furniture it's sitting on," says Pribyl. They come in four different sizes -- small to accommodate 13 to 15 inch sets; medium for 17 to 27 inch sets; intermediate for 20 to 27 inch sets; and large for 27 to 32 inch sets. They can even accommodate VCRs and DVD players if you add on a VCR Kit.

And for homes where space is at a premium, a television top shelf is a welcome gift. It is available in black or silver, matching today's TV colors, and has adjustable "leg" supports that make it adaptable to most any size set. It creates space where none exists, giving the recipient a place to put their cable box, VCR, DVD player, game console, or even a clock.

The accessories mentioned are in a price range that is affordable for everyone. For more information about Sanus Systems' complete line of Audio-Video accessories, log on to www.sanus.com.