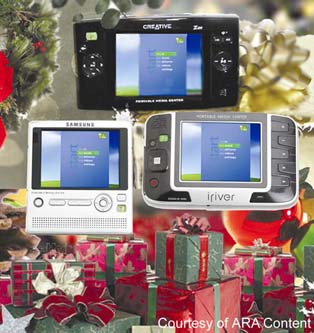 Portable Media Centers
(ARA) - According to the National Retail Federation, consumer electronics takes the lead as one of the most popular gifts. But if giving technology to someone at the top of the list seems a little impersonal, there's a way to warm it up.

Portable Media Centers let gift-givers add a personal touch by allowing them to give not only a technology device, but also some of the recipients' favorite entertainment transferred from a computer for instant fun. With the capacity to hold 5,000 songs, 80 hours of video or tens of thousands of digital photos, the Portable Media Centers have enough storage to hold a lifetime of entertainment.

"It's like having your very own DJ, video rental store and a hundred photo albums all in one small device," says James Bernard, Microsoft. "It's a great gift for tech lovers, giving them the opportunity to enjoy their favorite entertainment while traveling, commuting and working out at the gym."

Twenty-five years ago, portable tape players and cassettes were among the top gifts, allowing music lovers to take their favorite tunes with them everywhere for the first time. The Portable Media Center is generations ahead of that technology, but the idea is the same: Enjoy your favorite entertainment anytime, anywhere. With digital photography on the rise, and more than half of Internet users downloading music and videos, this new device is the perfect way to store and enjoy those files.

Before you wrap up the Portable Media Center, consider a few tips from Bernard to ensure your technology gift is as personal as it can be.
Load a few of the recipient's favorite TV shows, songs and personal photos on the device for instant fun.
Help the baseball fan in your life relive the great moments of the season by downloading highlights from MLB.com.
Home movies are always popular. Consider capturing video from past celebrations onto the device to create a sense of nostalgia.
The Portable Media Center is a sanity solution for travelers, especially those with kids. Give your gift before they leave home, loaded with movies, TV shows and music to keep them occupied on flights or in the backseat, making the trip to the their final destination part of the fun.
Create a digital scrapbook set to music to share with family and friends.
Portable Media Centers made by iRiver, Samsung, Creative, and Archos are now available in consumer electronics stores nationwide.

Courtesy of ARA Content