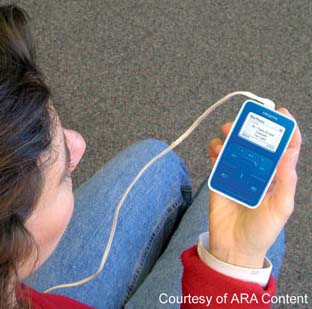 (ARA) - According to the Consumer Electronic Association's annual shopping forecast, MP3 players are expected to be one of the hottest selling products this year. But before you purchase one, it's a good idea to figure out how and why they work.

A good place to start is with a definition -- MP3 stands for Motion Pictures Experts Group Layer 3. It's a popular digital audio format that reduces music file sizes, making it possible to store a huge amount of music in a portable player. Music can be downloaded from an audio CD or legally purchased from one of the popular online music stores.

"The MP3 format is so popular it has become synonymous with 'compressed digital audio,' hence digital audio devices have been dubbed 'MP3 players,'" says Fred Pinkerton, audio expert at Cambridge SoundWorks. He goes on to explain that most digital audio players support a variety of formats including MP3 and WMA or Windows Media Audio, Microsoft's compressed digital audio format. Once converted to a format, these digital files are copied onto players the same way you would copy a standard computer file.

Digital audio players fall into two main categories, depending on the storage medium: hard drive or flash memory. Hard drive-based players have the capacity to store thousands of songs -- from 10GB all the way up to 60GB or the equivalent of 15,000 songs; this equates to being able to listen to music continuously for an entire month.

Flash memory based players are smaller and less expensive, but have much less capacity. "Micro" hard drive players offer significant storage capability -- 10GBs will hold approximately 2,500 songs -- and are as small as some flash memory players.


The MP3 Players at Amazon: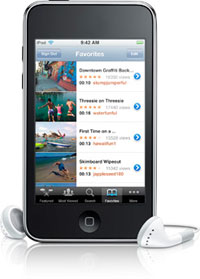 Apple iPods
iPod Accessories
Creative Zen
Zune
All MP3 Players
You most likely will want to get an MP3 player that contains enough storage capacity so that you can carry your entire music collection with you wherever you go.

What other features should you look for? Micro players come in sophiscated as well as electrifying colors. Some have an ergonomic curved design, to fit perfectly in the palm of one hand. Some feature a removable battery, while others have a battery that can't be removed. MP3 players might include a built-in FM radio and/or digital voice recording. The face of the player might be a Touch Pad with intuitive vertical scrolling that allows scrolling through music and menus with a natural up and down stroke of the thumb. Some have SD card slots. A video option is a nice feature to have if you like to watch clips (TV shows, movies, video podcasts, and more).

Popular players include:


For the iPod, there is also the iJet RF Wireless Remote, receiver (RF; no line of sight) and stand, that will allow you to operate an iPod from 60 ft away or more. It also comes with the audio cable necessary to hook up to any sound system (home or auto).

Consumers looking for advice on digital technologies can visit Cambridge SoundWorks' retail locations, log onto the Internet at cambridgesoundworks.com or call (800) FOR-HIFI to speak directly with an expert.

Courtesy of ARA Content